Things are getting back to normal: my body (slowly, slowly...), my hair (shedding like a dog), my sleep (Champ wakes up just at 3, sometimes not until 4), and even my ability to fit some reading into my day. Here's what I've been up to...
Read: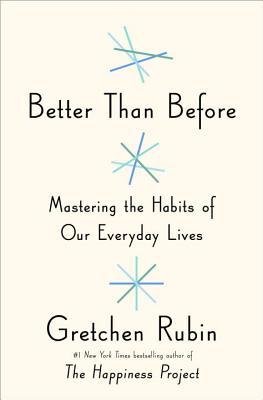 Better Than Before :: Rubin
I loved
The Happiness Project
, but this one was even better! Without being prescriptive, Rubin discusses psychology, studies, and anecdotes about habits in a way that starts the wheels turning about the reader's own life. Had to return it to the library, but I'll be checking it out again!
Why We Get Fat :: Taubes
This one was mentioned in
Better Than Before
, and I was intrigued by the premise. It flips the current "avoid fat" notion in nutrition science on its head. Not a new idea to me, but it's fleshed out with science and anecdotes that gave me a clearer picture (and a greater excuse to grab the butter!).


Didn't Get to Finish:
American Wasteland :: Bloom
I have been convicted from time to time of just how much stuff we throw away. Reading this book (again, had to return before I was finished) opened my eyes to the sheer amount of waste that goes on at all points on the consumer chain...and when I check it out again, I'm looking forward to the section about what I can do differently to address the issue.
Free to Learn :: Gray
What do kids need to learn? Free play. Outside play. To not have tests all the time. Lines up well (though not perfectly) with what I think about education. Excited to check it back out and finish it.






Abandoned:
The Fringe Hours :: Turner
I love the premise here: how to get more of what you want and love to do into your life and days...but I just couldn't get into it.






On My Nightstand: In My Suitcase:
I'm linking up with
Modern Mrs. Darcy for Quick Lit
. What have you been reading?